By Riya Lahoti
Many of our winter sport seasons have come to an end, so here's a recap of some of the amazing athletic achievements made by our astonishing Knights.
Boys Basketball
The boys basketball finished their striking season with 14 -11, which was the second time in the last 15 years the team had 10-plus wins in back-to-back seasons.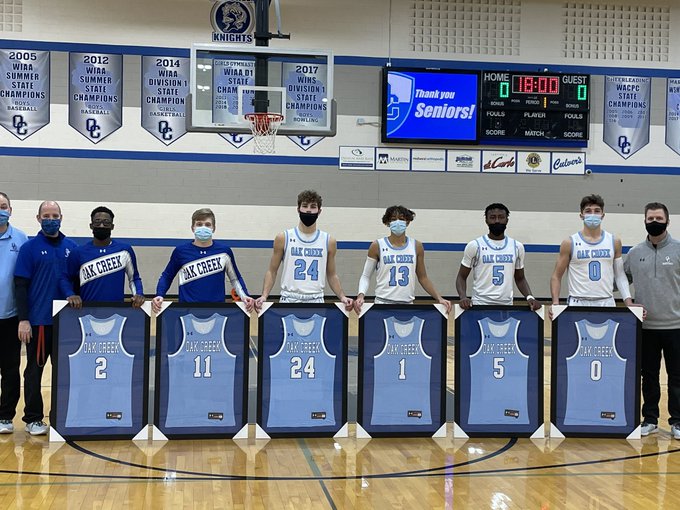 "We had a few effects of COVID. We told our team from day one this year, it's going to be crazy and this year will have a lot of adversity. If you learn to use it right, the adversity, it will buy you a ticket to a place you could not have gone any other way."

BOYS BASKETBALL COACH, KYLE JOHNSON
This stand-out team was built from the hard work of all its athletes, constantly striving ever to be better for themselves, and the school they represent. However, Jasin Sinani scored his 1000th point this year, as well as led the team in scoring 21 points, 7.4 rebounds, 4 assists 1.5 steals, and .8 blocks per game. Sinani showed not only what a great leader truly means, but served as a role model to the underclassmen on the dedication and commitment this sport endures. We as students and a school are very excited to see him play at the next level at University Wisconsin-Milwaukee (UWM).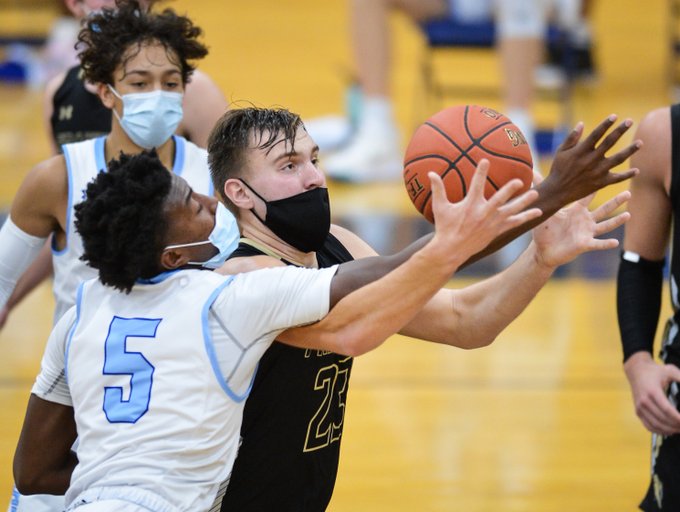 With such talent, it's only expected our seniors gained recognition and offers from universities. Currently, Jasin has committed to UWM, Kael Stulo has an offer from New Mexico Military Institute but is yet to commit, and Adam Bruin will play at University of Concordia-Wisconsin.
Boys Swim
2021 was an amazing year for boys swim as they qualified to perform at the 97th WIAA State Championship Meet. The dedication put forth by this team through this pandemic is inspiring, and every swimmer competed with great resilience.
However a special congratulations goes to the The 200 Medley Relay team of Trask, Ketterling, Mudry, and Connors who finished off state with a 16th place finish, breaking the previous school record!
Jacob Ketterling made this season his own, creating new personal records in all his events. Already holding a school record on the 200 individual medley, Ketterling not only broke this time, but placed 4th overall. Additionally, he broke the school's previous record for the 100 butterfly, placing 5th.
Also noteworthy is freshman CJ Trask, who competed at the state competition. Devouring the water through his brisk backstroke, he finished off the season with a new personal record.
And, lastly, Connors, Kopsea, Mudry, and Ketterling completed within the 400 free relay, placing 12th and shattering yet another new school record.
Wow! What an amazing way to end the season. We are proud to call you the Oak Creek Knights.
Powerlifting
We know Oak Creek Knights are powerful, but the powerlifting team showed that it's physically true as well! This program demonstrated great dedication and commitment, raking in an endless list of new personal records and gold medals.
Powerlifting competed in Germantown for their regional competitions. Congrats to the following lifters!
Girls
Bella Delgado Freshman 1st Place
Sophia Kovnesky, Junior, 2nd Place
Keira Ciancimino, Freshman, 4th Place
Mira Stecker, Freshman, 5th Place
Cassandra Sego, Freshman, 3rd Place
Arianna Litchford, Freshman, 5th Place
Emily Myer, Freshman, 1st Place
Erika Schraufnagel, Junior, 2nd Place
Grace Krzykalski, Sophomore, 1st Place
Mikayla Widenski, Senior, 1st Place
Makenna White, Freshman, 3rd Place
Grace White, Senior, 2nd Place
Lily Fintek, Sophomore, 3rd Place
Hailey Tackman, Freshman, 2nd Place
Rachel Jacobs, Senior, 3rd Place
Bri Rice, Sophomore, 4th Place
Katie Weins, Junior, 6th Place
Guys
Carson Alderks, Freshman 2nd Place
Jackson Fuller, Freshman, 2nd Place
Brady Oleszak, Junior, 1st Place
Dylan Sinthsomphone, Junior, 2nd Place
Ethan Conto, Freshman, 3rd Place
Bodhi Wettengal, Freshman, 7th Place
Wyatt Winkler, Freshman, 8th Place
Tyler Kingston, Junior, 2nd Place
Brandon Piche, Junior, 1st Place
Ryan York, Sophomore, 2nd Place
Cole Rodriguez, Junior, 4th Place
Jack Guddie, Junior, 4th Place
Kyle Peck, Sophomore, 5th Place
Seth Derks, Sophomore, 1st Place
Jordan Puente, Sophomore, 1st Place
Alex Pethan, Junior, 2nd Place




Chart created by the OC powerlifting team.
Additionally, Kalie Freidberg, Colin Stecker, Donovan Sinthasomphone, Austin Tackman, and Matt Schraith qualified for the USA Powerlifting National High School Championship scheduled for this coming spring in Colorado. We wish them all good luck!
Girls Basketball
The varsity girls basketball team had a successful season this year. Our Knights played a challenging schedule but still ended up with a 18-5 record.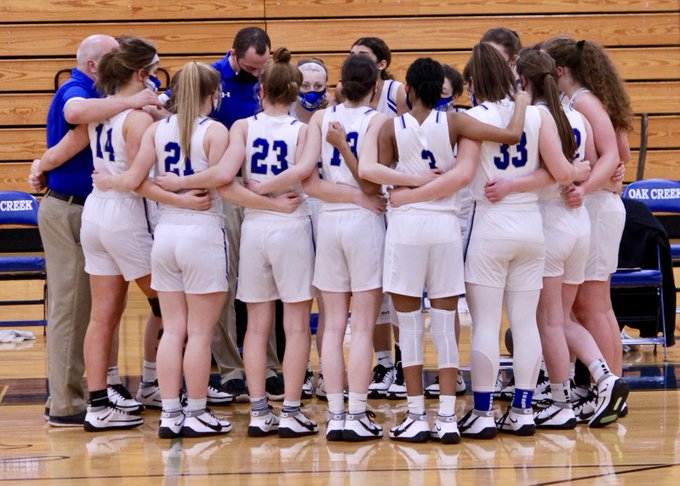 After starting the year 2-3, the girls finished on a 16-2 run. The team won their Christmas tournament this year, which featured four teams that were ranked in the state! Overall, varsity girls were placed 8th in the state at the end of 2020.
Unfortunately for the team, they lost in the regional final to Franklin (who they had beaten them 19 straight times before that game).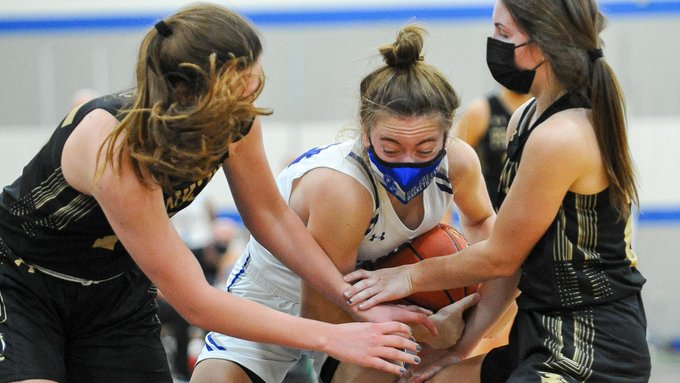 The team will say good-bye to three awesome seniors: Jenna Widenski, Sara Kasar, and Janiyah Goner. All three were starters and the leaders of the team. We hope to see our shining Knights continue their talent in college and beyond.